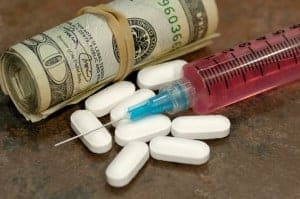 Motion to Suppress Granted In Federal Drug Charge Case 
Mobile Alabama criminal defense attorney Chase Dearman successfully won a motion to suppress in a Federal drug charge case based on a recent U. S. Supreme Court decision regarding police traffic stops. Dearman's client faced federal drug charges in the United States District Court in Mobile, Alabama after Alabama State Troopers allegedly discovered packages of cocaine weighing a kilo or more in the client's vehicle.  The client had been pulled over for speeding.  The Trooper issued a warning ticket for speeding to the client, but persisted in talking to the client and asking probing questions in an attempt to gather more information.  Ultimately, the Trooper called for backup and the Troopers searched the client's vehicle.  According to Troopers, they discovered a large quantity of cocaine in a hidden compartment in the vehicle.  As a result, the client was charged with a Federal drug charge: distribution of a controlled substance.
In the process of defending the client, Dearman filed a motion to suppress all evidence from the traffic stop.  If the motion was granted, it would suppress the evidence.  Dearman cited the U. S. Supreme Court case of Rodriguez v. U.S., 575 U.S. ___, 135 S.Ct. 1609 (2015) in the motion.  In the Rodriguez case, the Supreme Court held that law enforcement cannot extend a simple traffic stop beyond the time necessary to complete the traffic stop unless they have an articulable reasonable suspicion of criminal activity.  In other words, the police cannot simply detain a person after they have completed the traffic stop in order to question the person further, or to get a drug dog to the scene.  Unless they have reasonable suspicion, they must allow the person to go.
In granting the motion to suppress, the U. S. District Court held that the Trooper lawfully conducted the traffic stop and that the client had complied with all the Trooper's reasonable requests during the traffic stop.  However, the Trooper's interaction with the client should have stopped once he discovered that the client had no outstanding warrants and after he issued the client the warning ticket.  The Court held that the Trooper's additional questioning, after the purpose of the traffic stop was accomplished, unlawfully extended the duration of the stop and violated the client's 4th Amendment rights.  The District Court granted the Motion to Suppress the evidence.  The Government has filed an appeal of the decision with the Eleventh Circuit Court of Appeals and the appeal is pending.
Chase Dearman is a Mobile Alabama criminal defense attorney handling state and federal criminal cases in Mobile County, Baldwin County, and South Alabama.  He has successfully defended countless clients in trials and appeals on all manner of criminal charges.
CONTACT CHASE DEARMAN AT THE DEARMAN LAW FIRM
(251) 445-6997
https://www.dearmanlawfirm.com/wp-content/uploads/2015/08/iStock_000001953618Small.jpg
565
850
Dearman Law Firm
https://dearmanlawfirm.com/wp-content/uploads/2018/09/dearman_lawfirm_logo-horizontal-mobile-alabama-federal-criminal-defense-attorney-1030x315.png
Dearman Law Firm
2015-08-27 16:37:24
2016-02-17 22:21:50
Dearman Wins Suppression Motion in Federal Drug Charge Case